CALLING NEW SMC STUDENTS: Anyone interested in enrolling their child into St. Mary's PreK, Daycare, Elementary or SMC 7th-12th grades for the 2023-2024 school year may apply now online. Go to OLLsmc.org. Parents: Currently enrolled SMC K-11th grade students DO NOT need to complete online applications. Children who are currently attending our preschool and/or daycare SHOULD apply online. Please contact respective building principals with any questions. Mrs. Kristen O'Brien, Elementary Principal: 620.231.6941 Mr. Dennis Burke, Jr/Sr High Principal: 620.231.4690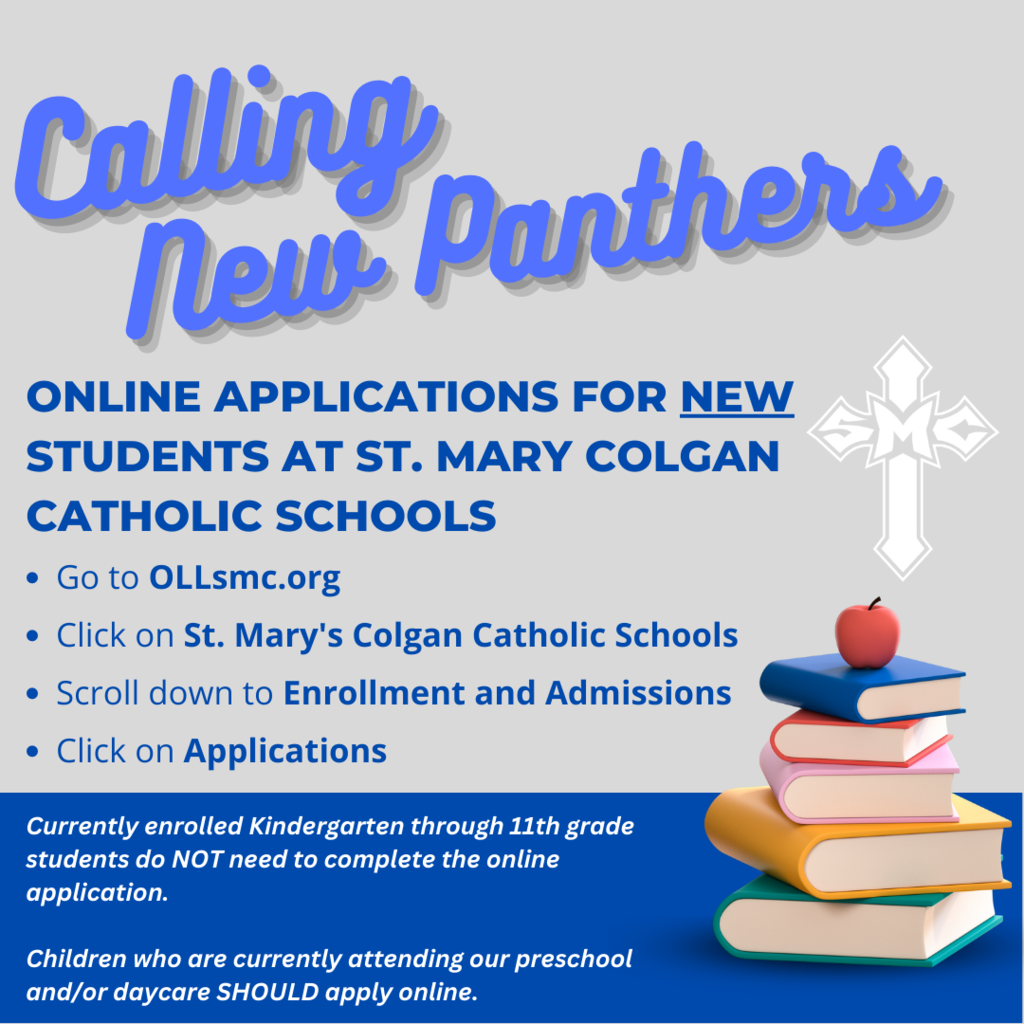 SAVE THE DATE: June 6-9, 2023 Catholic Kids Camp! For children of the school and parish, currently enrolled in PreK-4th grades, at St. Mary's Elementary School (9am-12pm) with exciting activities to learn more about our Catholic Faith! Watch for more details in early spring.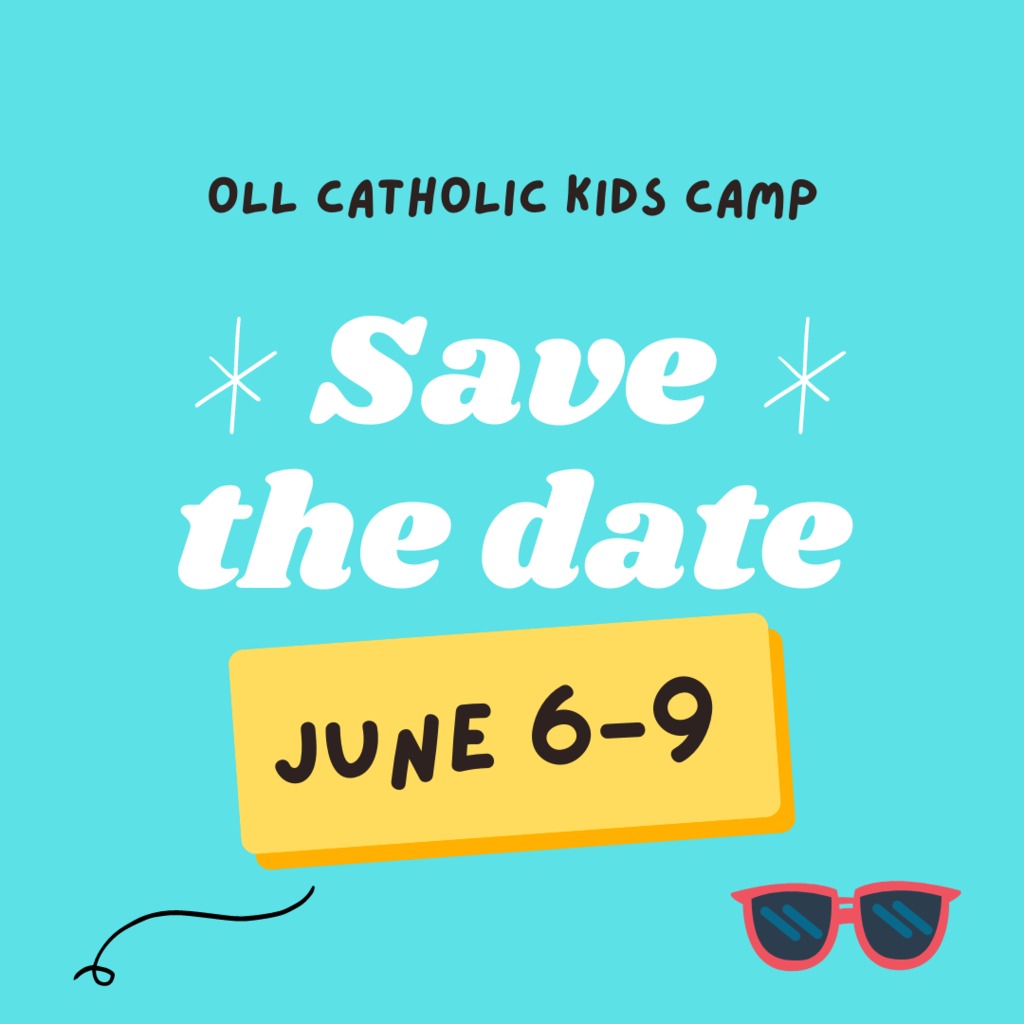 EXTRA CONFESSIONS FOR ADVENT Sunday, December 18 • 4-5pm: Advent Vespers, Adoration & Penance Service. Thursday, December 22 • 4-5:30pm: Extra Confessions.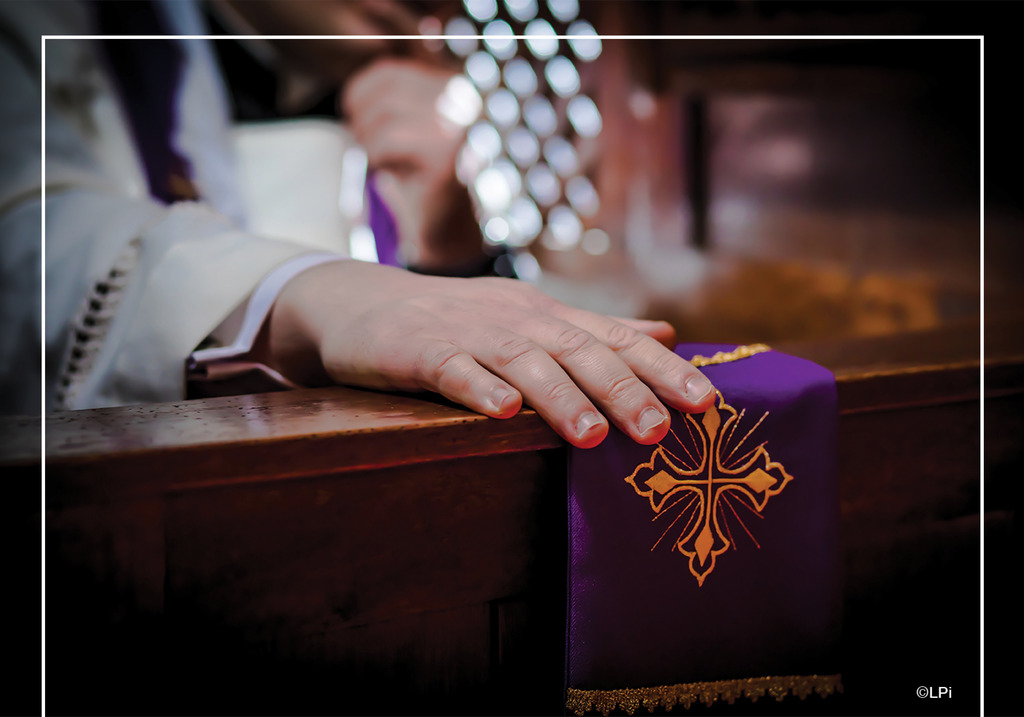 There will be a pop-up Parish Work Day at Our Lady of Lourdes this Saturday, December 3rd from 9-11am. Volunteers should meet in the SMC high school parking lot. If you have rakes and/or work gloves available, please bring those with your name on them. We will primarily be cleaning up leaves or other such debris.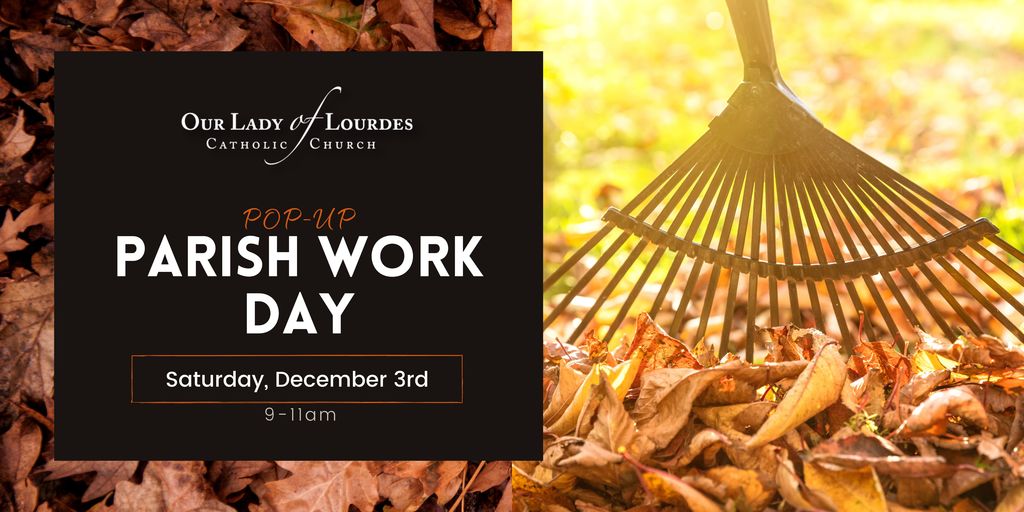 CYM is still looking for help this Saturday (11/19) at Parking for Pitt. Please consider volunteering at OLLsmc.org/parking
St. Mary's PTO has Panther gear is available for the whole family! Orders online only and deadline is Nov 22.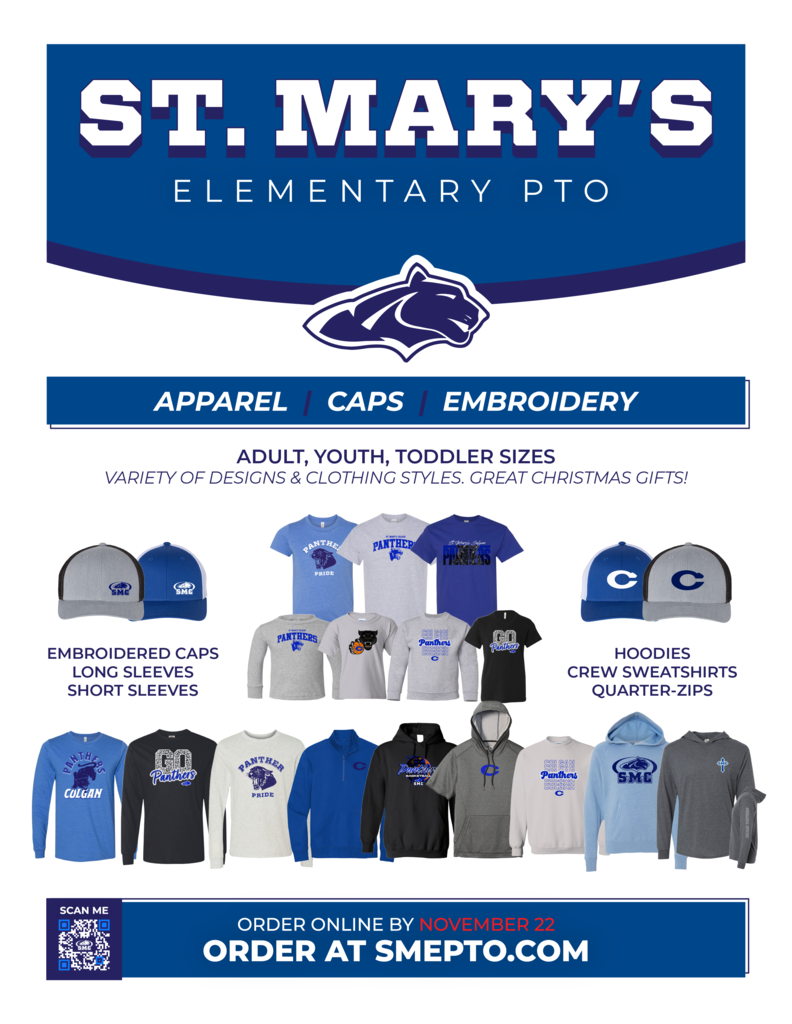 SME PTO Apparel Store is NOW OPEN!! Visit smepto.com Shop for a variety of products and sizes, including the toddlers in your family! SME PTO Apparel Store The store will close on Monday, November 21, 2022.

Would you like to spend one hour each week with our Lord? Adoration is an opportunity for each of us to spend time in Eucharistic devotion before the Blessed Sacrament, day and night. #IHS+ As Mother Teresa said, "Every Holy Hour we make so pleases the Heart of Jesus that it is recorded in Heaven and retold for all eternity!" Visit our updated Adoration web page at OLLsmc.org/adoration for more information, to view available hours, or to signup now.
2 show remaining for SMC's production of Fiddler on the Roof! Tickets available online only at OLLsmc.org/fiddler. Saturday, November 5th Matinee Show at 2pm - almost SOLD OUT! Closing Show at 7pm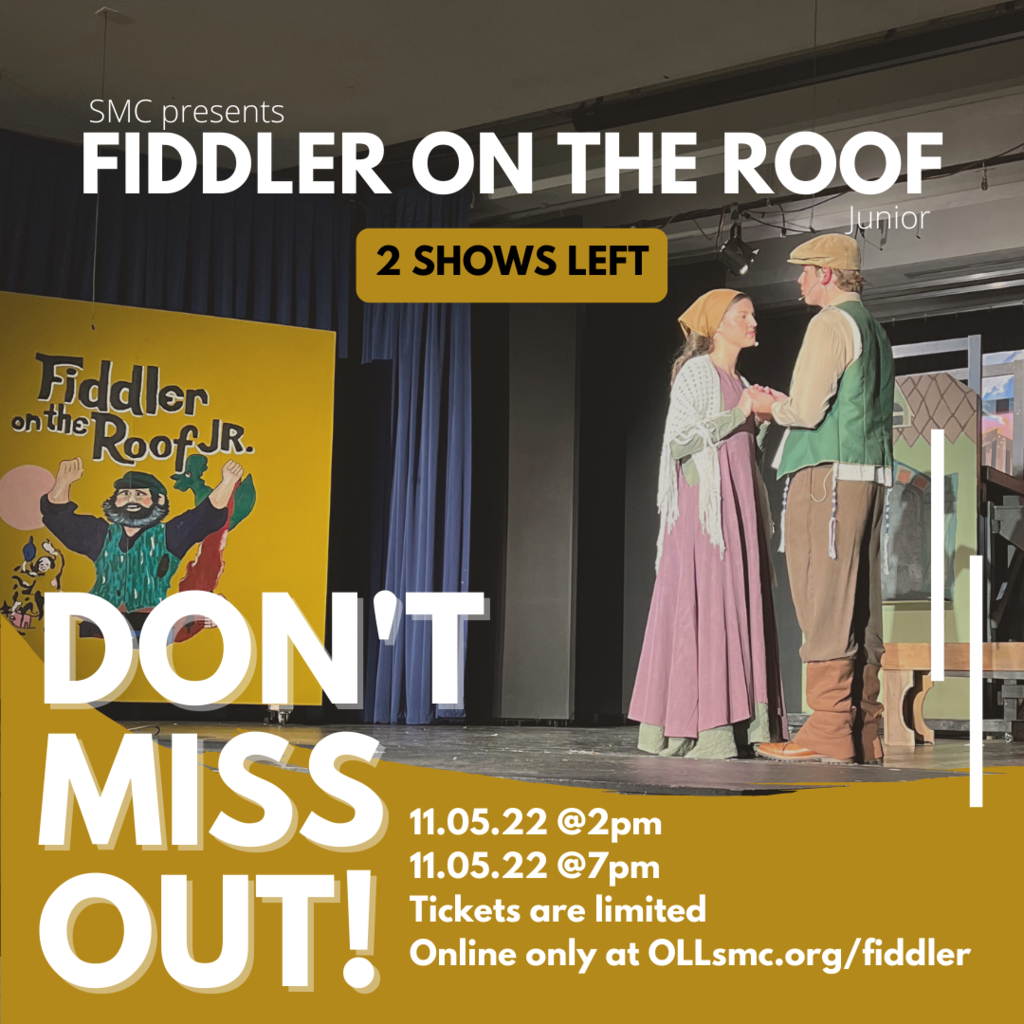 "The holy Eucharist contains the whole spiritual treasure of the Church, that is, Christ himself.... He who is the living bread, whose flesh, vivified by the Holy Spirit and vivifying, gives life to men." - Vatican II This is where our treasure can be found! Come with us on a brief virtual tour of the Adoration Chapel at Our Lady of Lourdes ➡️
https://youtu.be/GqXIJ9lDxjI

Altar Society Turkey Dinner is Sunday, November 6th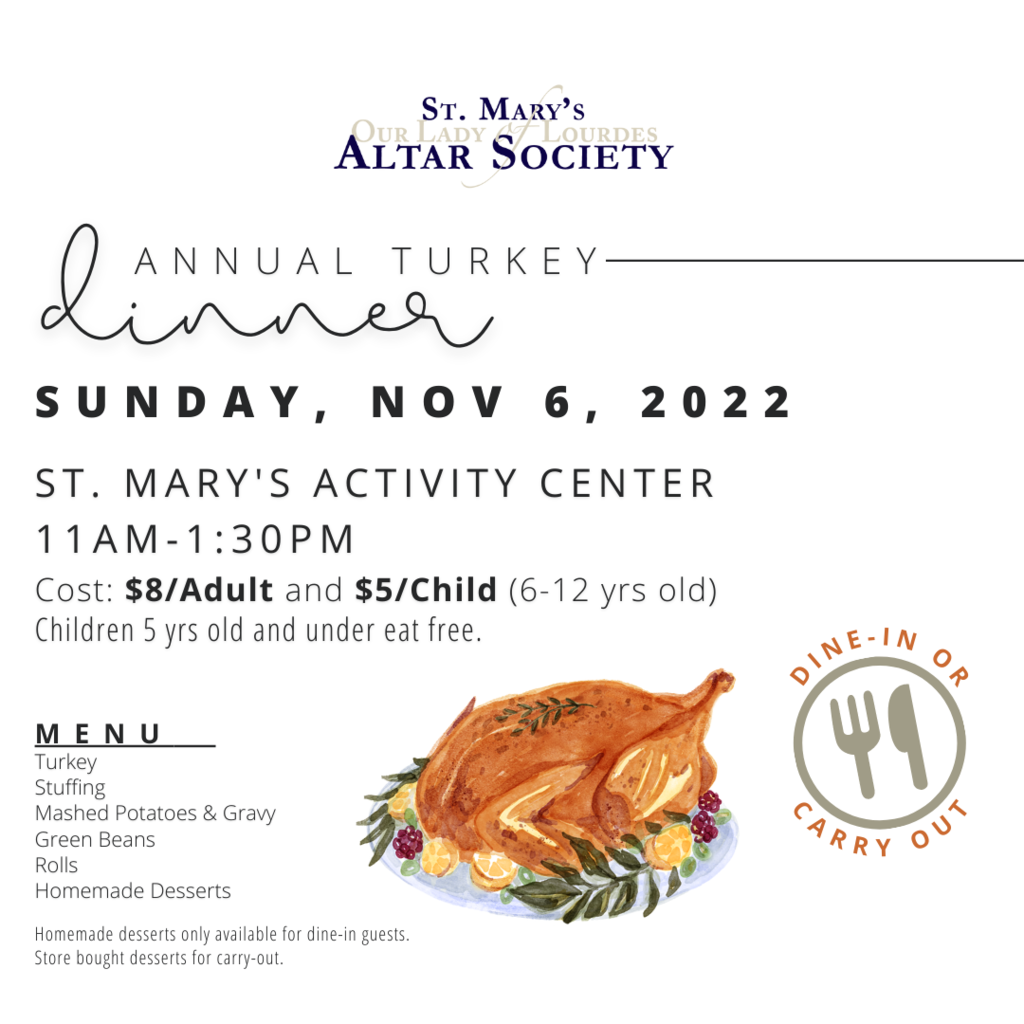 HDO: All Saint's Day is November 1st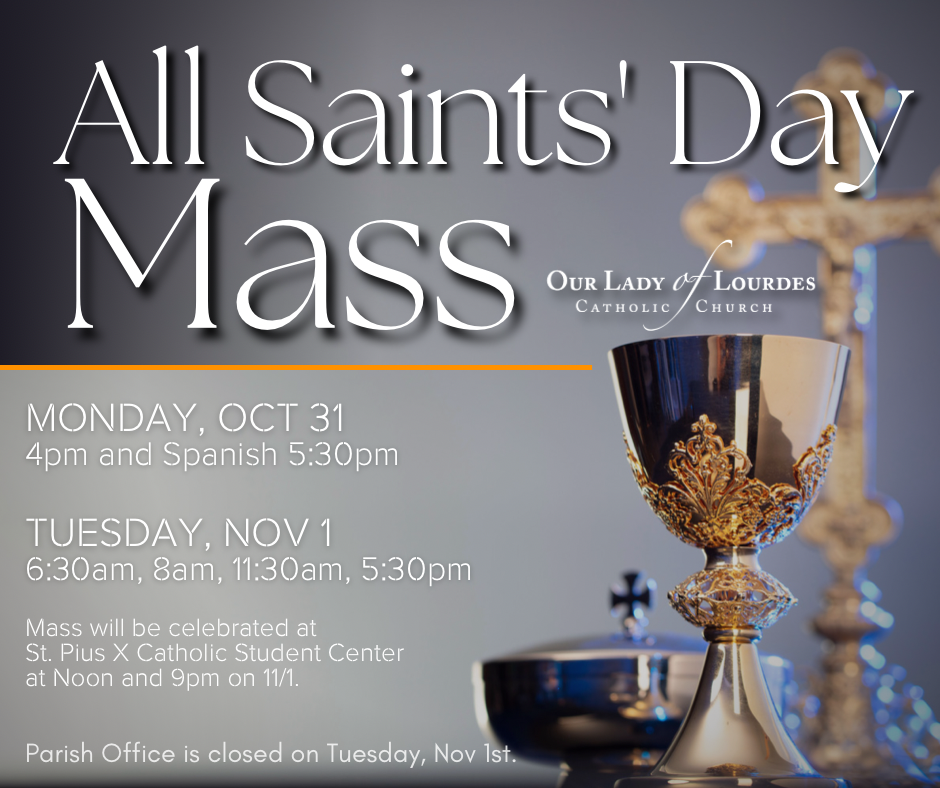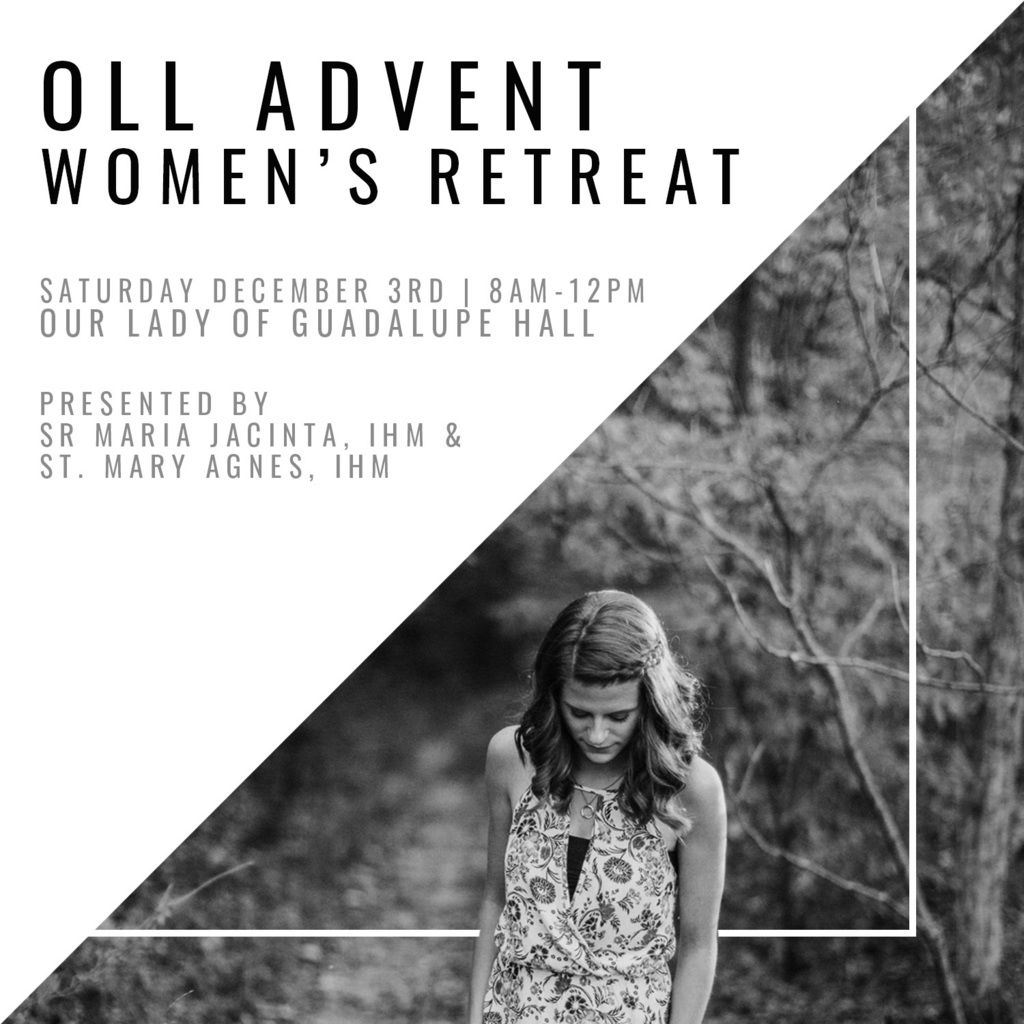 URGENT NEED! CYM is has an urgent need for volunteers to help with Parking for Pitt on Sat 10/22, especially from 10:30am-2pm. Sign-up at: OLLsmc.org/parking
We are in need of substitute teachers at St. Mary's Elementary School. If you are interested or know someone who is, please contact the office at 620-231-6941 or email Mrs. O'Brien at
obrienk@ollsmc.com
.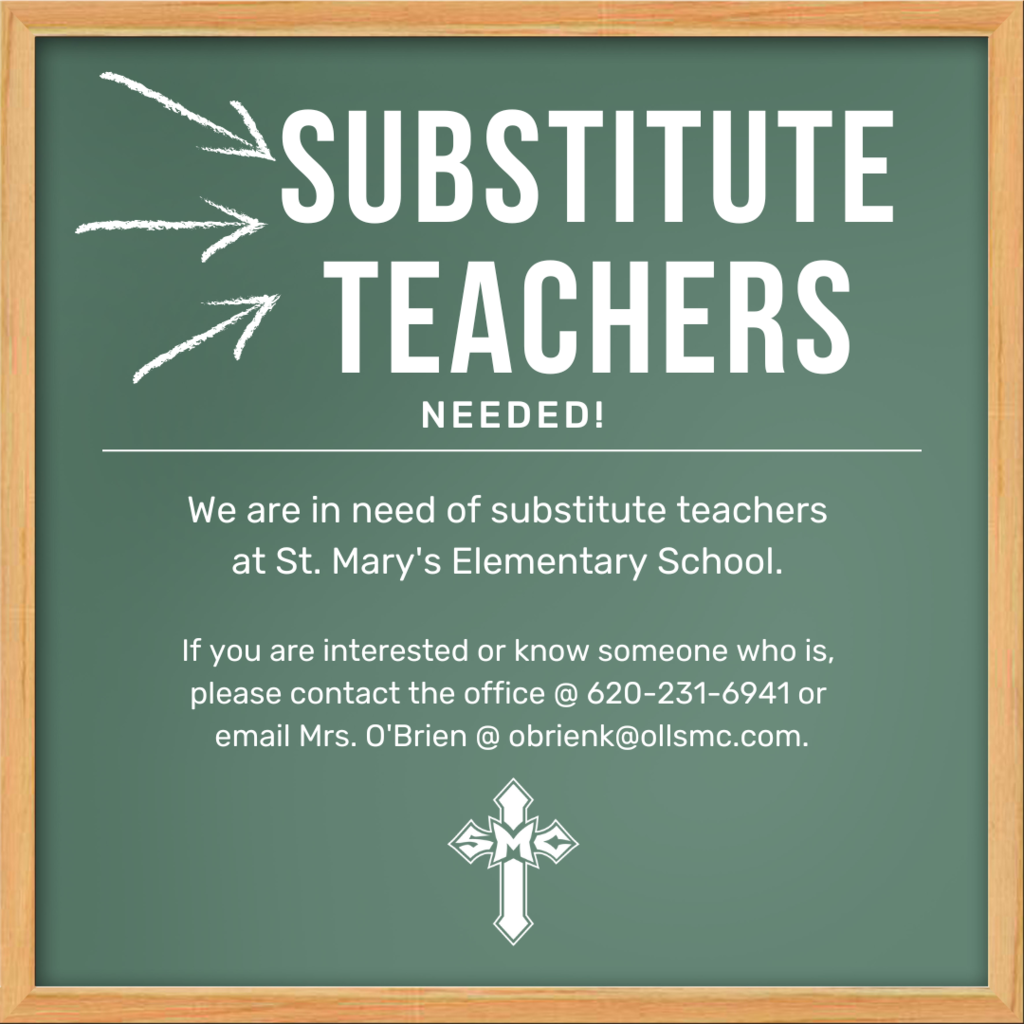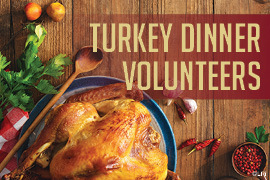 OLL Stewardship Council invites you to Adoration Under the Stars on Sunday, October 30th from 6-7pm. Exposition will take place on the front steps of the church. (We will move inside if weather is bad.) Bring chairs or a blanket to sit on outside.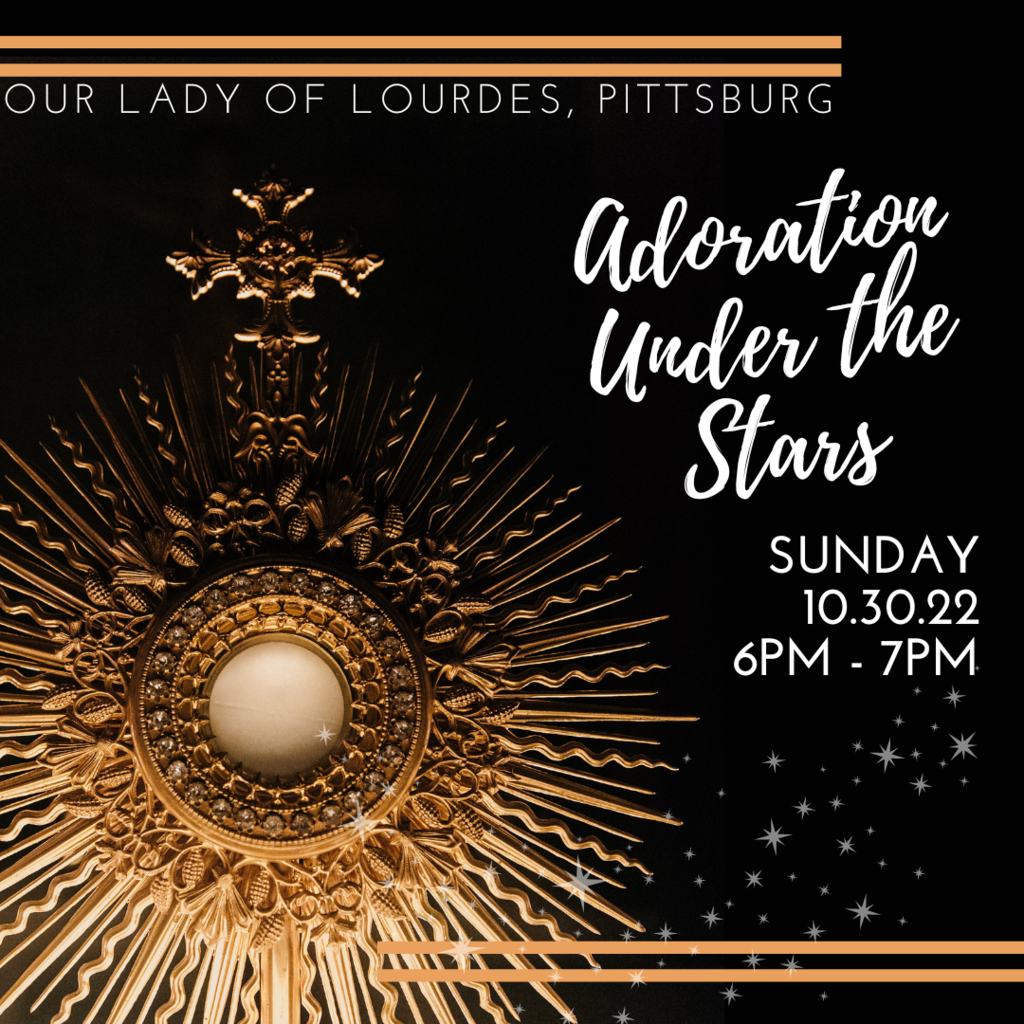 Ladies of the parish please mark your calendars! Sr Maria Jacinta will be giving a talk on Mary, Monday, October 17th at 6:30pm in the Guadalupe Hall. Sister will speak on Our Lady as daughter, sister and mother. Understanding these essential roles of Our Lady, primarily her role as daughter of the Father, will help us to grow into our calling to be daughter, sister and mother. Spiritually we are always daughters of the Father, and like Our Lady, this enables us to be sister and mother for others.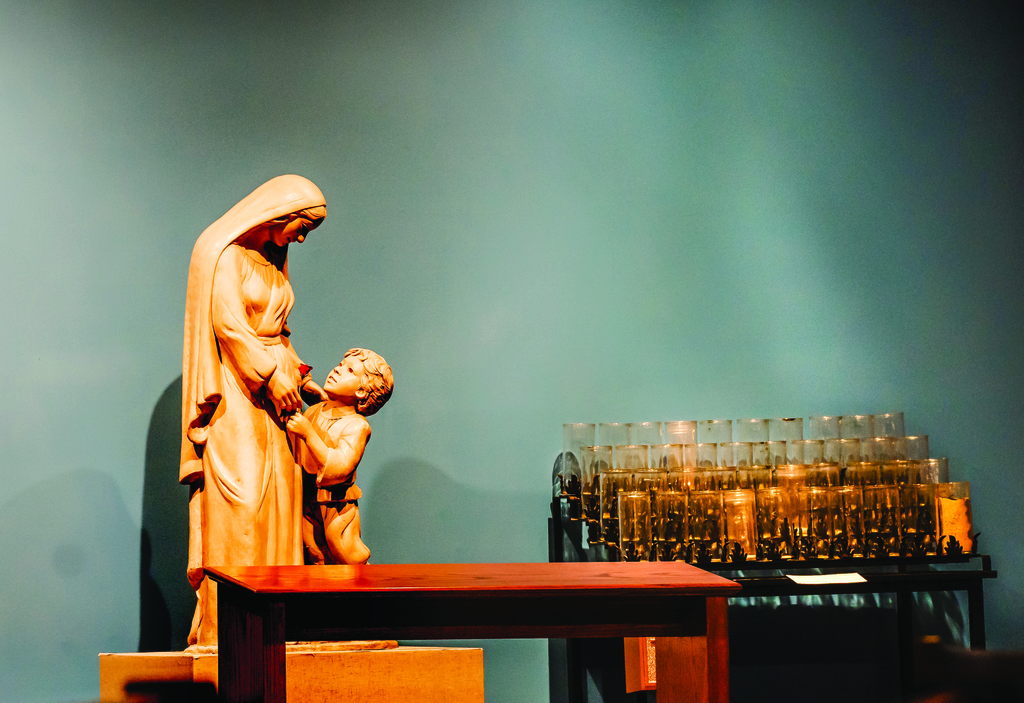 Opportunity to Donate to the Annual Turkey Dinner: Due to the rising cost of many items purchased for the Turkey Dinner, our committee is offering an opportunity for parishioners to donate green beans. We are asking parishioners to donate the L A R G E cans of green beans. They are referred to as #10's or family size and are approximately 6lbs 6 oz each. We hope to receive a total of 50 cans. You may drop them off to the parish office, anytime between now and October 31st. Thank you!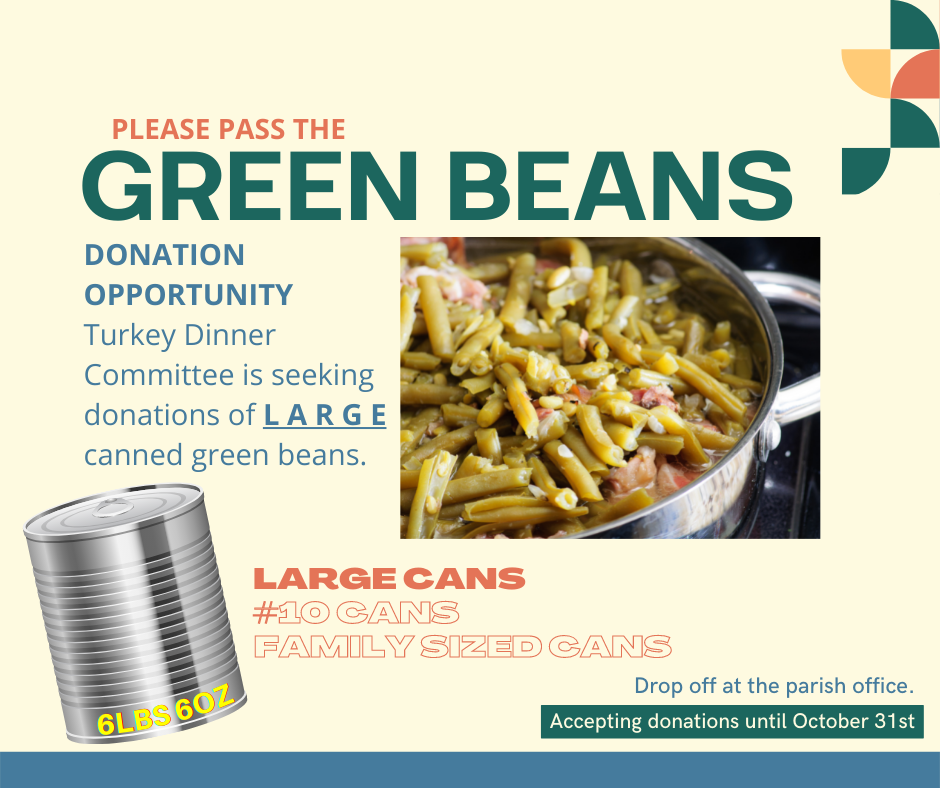 Dear Parish and School Families, We are aware that another fake email, claiming to be from Fr. Jerome, is currently in circulation. Unfortunately, such things are out of our control to stop or eliminate. Our priests will never send an email or text asking for money or gift cards. This is often done under the ruse of needing immediate help or assistance. It is also important that you look carefully at the senders email address if you receive an unusually or unexpected email from one of our priests; each will only use his established or official email addresses. Please never send any kind of financial information via email or text to someone claiming to be one of our priests.